Featured Talks and Videos: When you can't watch Cranes, Watch ON-DEMAND
March 11 @ 7:00 am

-

March 20 @ 10:00 pm

Free
When the cranes are asleep and you are looking for something to watch, or you stayed home this year and need some new entertainment.  We have collected some old and some new video segments about birds, birding, and the San Luis Valley to entertain you. Some fantastic journalists and videographers have shared their work to entertain, educate and inform you.  Registering for a ticket will give you access to the videos starting March 11 through March 20th.  
The Monte Vista Crane Festival presents:   2022
Featured speakers and talks: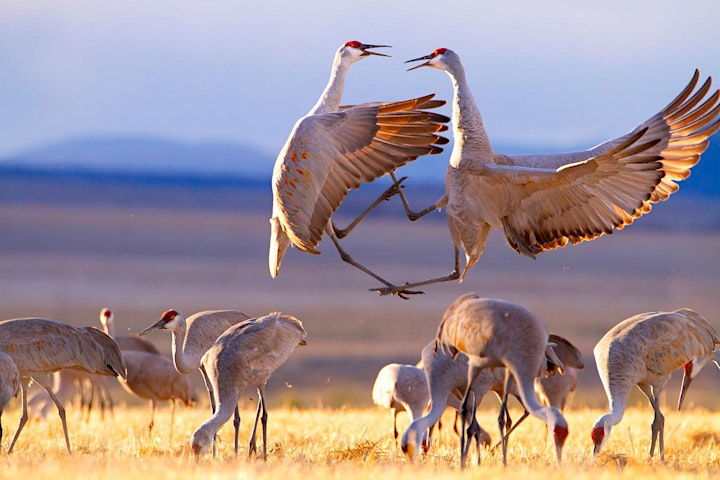 In 2022 we are not using buses or gathering indoors. So we asked our speakers who would usually be present in person, to record their presentations. You can watch the videos ON DEMAND for FREE from March 11 thru March 20th. We hope you enjoy it! There's interesting information about wildlife use of abandoned mines along the Sangre de Christo Mountains, Flammulated Owls at the Hot Creek Research Natural Area in the San Luis Valley, and raptor education by Hawks Aloft. If you missed the 2021 Online Festival, we have the beautiful video of "Wildlife and Landscapes in the San Luis Valley" and "Cranes of the World" again. For more information on the festival and to give a donation visit https://mvcranefest.org/.Monte Vista Crane Festival
2022 Featured photographer, Arrow Myers.
"Wildlife visitation at abandoned mines in the Sangre de Cristo Mountains of the San Luis Valley"
Abandoned mines in the Sangre de Cristo Mountains of Colorado were monitored with trail cameras for three years documenting a wide range of carnivores and other wildlife visiting and entering the mines throughout the year.
Speaker Bio:
Tim Armstrong grew up in the midwest before serving in the US Navy. He earned his Bachelor's degree from Mesa State College in Grand Junction and his Masters and Ph.D. in zoology from the University of Massachusetts in Amherst. After teaching in Iowa for five years he returned to Colorado with his wife and two boys. He has taught vertebrate ecology at Adams State University for over 25 years and worked on local conservation issues, including serving as president of the Friends of the San Luis Valley National Wildlife Refuges for 20 years. He has traveled extensively around the world with his family, students, and members of the community.
"From the San Luis to Sierra Chincua: the movements of Flammulated Owls and what they teach us"
Dr. Scott Yanco
Scott Yanco is a Postdoctoral Associate with the Center for Biodiversity and Global Change and the Department of Ecology and Evolutionary Biology at Yale University. His research focuses on animal movement and adaptations to environmental change, with a particular focus on bird migration.  In this talk, Scott will draw on ongoing research at the Hot Creek Research Natural area, perched on the western edge of the San Luis Valley. From summer fires to cold snowy winters, these tiny owls must cope with a harsh and ever-changing environment. Learn about the owls' strategies for surviving these challenging conditions and the cutting-edge techniques scientists use to study them. Links for more info: www.scottyanco.com https://mpyc.yale.edu  
Owls of Colorado
Hawks Aloft, Inc. is a 501(c)3 non-profit organization incorporated in 1994 and based in Albuquerque, New Mexico. https://www.hawksaloft.org/
We work to conserve indigenous wild birds and their habitats through avian research, conservation education, raptor rescue, and cooperation with other organizations.
We believe that this work helps to preserve New Mexico's unique landscapes and wildlife populations for many generations to come.
Other Videos include:
Fragile Flyway: The Rio Grande Corridor is a connecting thread for migratory birds along the vast Central Flyway from the prairies of Canada to the highlands of Mexico. The corridor is particularly important to Greater Sandhill Cranes, Northern Pintails, White-faced Ibis, and many other species. Wetlands along the Rio Grande and throughout the Intermountain West are increasingly scarce, with only 2% of this historical range remaining. These habitats are typically associated with irrigated agriculture and occur on working ranches and farms. The connectivity of farmlands to publicly-managed wetlands is critical, more so now than ever.
Bird-Watching While Black: A Wildlife Ecologist Shares His Tips | Short Film Showcase: J. Drew Lanham believes that "conserving birds and their habitat [is] a moral mission that needs the broadest and most diverse audience possible to be successful." He's a professor of wildlife ecology in the College of Agriculture, Forestry, and Life Sciences at Clemson University in South Carolina, as well as a published poet, naturalist, hunter, and birder. He's aware that this last specialty—birder—isn't something people expect a black man to be, and after seeing what was going on in the news, he wrote "9 Rules for the BlackBirdwatcher," a satirical essay adapted to film by BirdNote.
Beaver Believers: The award-winning feature documentary directed by Sarah Koenigsberg follows the work and passion of five scientists and one quirky hairdresser turned beaver rescuer. Independently they're all working to restore the North American Beaver, nature's most hard-working engineer, to watersheds of the American West.